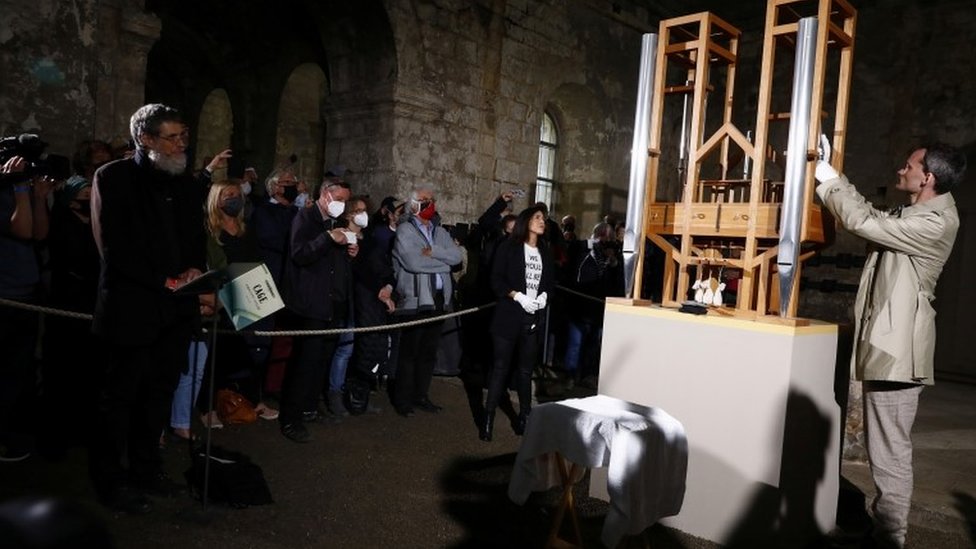 IMHO: The article, below, nicely illustrates a good reason why I long ago came up with my "rule" that, "Just because one can do something does not mean that one must do it."
639-Year Organ Performance Changes Chords for the First Time in Seven Years (theguardian.com) 100
"Fans have flocked to a church in Germany to hear
a chord change in a musical composition that lasts for 639 years
," reports the BBC. "It is the first change in the piece,
As Slow As Possible
, in seven years."
The Guardian reports:
The performance of the composition began in September 2001 at the St Burchardi church in the eastern town of Halberstadt and is supposed to end in 2640 — if all goes well.

The music piece by the American composer John Cage is played on a special organ inside the medieval church... A compressor in the basement creates energy to blow air into the organ to create a continuous sound. When a chord change happens, it's done manually. On Saturday, soprano singer Johanna Vargas and organist Julian Lembke changed the chord.
The BBC notes the score for the 639-year composition is just eight pages long. But though the piece was written in the 1980s, it wasn't until nine years after the composer's death in 1992 that anyone dared to attempt playing it. That performance then began — with a pause that lasted nearly 18 months.
The next chord change is scheduled for February 5 of the year 2022.
More Covid-19 Reinfections Found, But Researchers Urge Caution
(statnews.com)
117
That Covid-19 reinfection
in Hong Kong
was followed by similar reports
in Belgium and the Netherlands
. It was announced today that a 27-year-old woman in Karnataka, India also
tested positive for the disease a second time
(though the government is still seeking confirmation), and now researchers in Nevada are also reporting
a "likely" case of reinfection
.
The health-news site
Stat
reports:
What caught experts' attention about the case of the 25-year-old Reno man was not that he appears to have contracted SARS-CoV-2 (the name of the virus that causes Covid-19) a second time. Rather, it's that his second bout was more serious than his first. Immunologists had expected that if the immune response generated after an initial infection could not prevent a second case, then it should at least stave off more severe illness. That's what occurred with the first known reinfection case, in a 33-year-old Hong Kong man.

Still, despite what happened to the man in Nevada, researchers are stressing this is not a sky-is-falling situation or one that should result in firm conclusions. They always presumed people would become vulnerable to Covid-19 again some time after recovering from an initial case, based on how our immune systems respond to other respiratory viruses, including other coronaviruses. It's possible that these early cases of reinfection are outliers and have features that won't apply to the tens of millions of other people who have already shaken off Covid-19. "There are millions and millions of cases," said Michael Mina, an epidemiologist at Harvard's T.H. Chan School of Public Health. The real question that should get the most focus, Mina said, is, "What happens to most people...?"

Researchers are finding that, generally, people who get Covid-19 develop a healthy immune response replete with both antibodies (molecules that can block pathogens from infecting cells) and T cells (which help wipe out the virus). This is what happens after other viral infections.
Sir Martin Hairer is an Austrian mathematician working in the field of stochastic analysis, in particular stochastic partial differential equations. He is Professor of Mathematics at Imperial College London, having previously held appointments at the University of Warwick and the Courant Institute of New York University. Wikipedia
I am in awe of the work done by the fellow in the above photo because stochastic vibrations was a course in my graduate studies days, years and years ago (before Hairer was born, but who's keeping track?)
UK Mathematician Wins Richest Prize in Academia For His Work On Stochastic Analysis
(theguardian.com)
8
Lanodonal
writes:
A mathematician who tamed a nightmarish family of equations that behave so badly they make no sense has won the most lucrative prize in academia. Martin Hairer, an Austrian-British researcher at Imperial College London, is the winner of the 2021 Breakthrough prize for mathematics, an annual $3m award that has come to rival the Nobels in terms of kudos and prestige. Hairer landed the prize for his work on stochastic analysis, a field that describes how random effects turn the maths of things like stirring a cup of tea, the growth of a forest fire, or the spread of a water droplet that has fallen on a tissue into a fiendishly complex problem. His major work, a 180-page treatise that introduced the world to "regularity structures," so stunned his colleagues that one suggested it must have been transmitted to Hairer by a more intelligent alien civilisation.

Hairer, who rents a London flat with his wife and fellow Imperial mathematician, Xue-Mei Li, heard he had won the prize in a Skype call while the UK was still in lockdown. "It was completely unexpected," he said. "I didn't think about it at all, so it was a complete shock. We couldn't go out or anything, so we celebrated at home." The award is one of several Breakthrough prizes announced each year by a foundation set up by the Israeli-Russian investor Yuri Milner and Facebook's Mark Zuckerberg. A committee of previous recipients chooses the winners who are all leading lights in mathematics and the sciences. Other winners announced on Thursday include a Hong Kong scientist, Dennis Lo, who was inspired by a 3D Harry Potter movie to develop a test for genetic mutations in DNA shed by unborn babies, and a team of physicists whose experiments revealed that if extra dimensions of reality exist, they are curled up smaller than a third of a hair's width.