It has been a few years since I last posted a book review. There's a reason for that: It is time-consuming, hard work - even when one has read a worthy book. She Has Her Mother's Laugh (SHHML) popped out at me from the shelves of books newly added to my local public library's shelves. Surely, I'm the first to have checked it out. It was added to the shelves in July and, even though it is difficult to lay down once one starts it, it is not a quick read.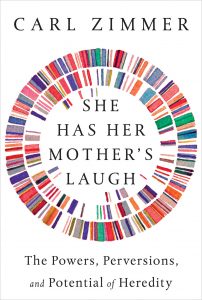 Wikipedia starts the author's entry with:
"Carl Zimmer (born 1966) is a popular science writer and blogger who has specialized in the topics of evolution and parasites. He has authored many books and contributes science essays to publications such as The New York Times, Discover, and National Geographic. He is a fellow at Yale University's Morse College." Mr Zimmer's blog may be found at this link.
SHHML comprises 19 chapters (divided among five parts), a short glossary, 22 pages of notes wherein citations are made, 44 pages of bibliography, a few pages of acknowledgments, and 12 pages of densely printed index. You can surely understand why I say it isn't a quick read. 
In wondering if my Mitochondria are up to the task of writing a review, I decided that there was no need for me to write a review: others, more talented in reviewing books, have done that for me. [From the book's glossary, "Mitochondria: Fuel-generating organelles inside the cell containing a small amount of DNA. Mitochondria are inherited only through the maternal line." But you knew that!]
Following, below, is one paragraph lifted from a review by Jennifer Raff for The New York Times. After that paragraph, I merely ramble on about some of the things I learned or noted along the way.
In an Age of Gene Editing and Surrogacy, What Does Heredity Mean? by Jennifer Raff, May 31, 2018
"She Has Her Mother's Laugh" challenges our conventional wisdom about heredity, especially as we enter the new realms of surrogate pregnancy and gene editing. One of the most astonishing insights is that mothers don't just pass traits to their children — they receive them as well. I read Zimmer's book (occasionally out loud) while feeding my baby son. Like Zimmer, I had genetic counseling and my partner and I experienced the same anxieties as he did. But unlike Zimmer, I was able to assuage our fears using a drop of my own blood. That's because my baby's DNA, floating freely in my bloodstream, could be tested for hundreds of genetic disorders at an early point in my pregnancy. We took great comfort in the test, without realizing all of its implications. The baby wasn't just sharing his genetic secrets during the pregnancy. Fetal cells can persist for years after birth; as I sit and write these sentences, I may very well be a chimera: a mixture of some of my son's cells and my own. This microchimerism may even have eventual effects on my health, although it isn't fully understood. And he may carry some of my immune cells, too.
SHHML is a story book, telling a history (of sorts) of human understanding and attempted manipulation of genetic heredity. The story is so winningly told that, as Hunky Husband could tell you, I've had a hard time putting down the book during the past week. Starting with the Middle Ages tale of the House of Habsburg (which I've always spelled "Hapsburg"), the family's famous/infamous jaws, and the then-current thinking on heretance, Zimmer introduces the nonsensical identification and labeling of human "races". He explores the Habsburgs' industrious avoidance of tainting their blood with that of lesser beings. Zimmer writes:
"To protect the family's power, Philip II married Maria Manuela, his first cousin. Genetically speaking, though, she was even more closely related than that. Philip's parents, Charles and Isabella, were also first cousins, while Maria Manuela's own parents were Charles and Isabella's siblings."
Talk about a double whammy of inbreeding!
Lactose Tolerance/Intolerance:
Zimmer writes:
"If you've recently enjoyed a cone of ice cream or a slice of Brie...you are experiencing one of the more bizarre results of the Agricultural Revolution. As a rule, mammals don't consume milk in any form once they stop nursing. After weaning, they stop producing lactase, the enzyme required to break down lactose sugar. The same is true for about two-thirds of people worldwide. For them, consuming milk can be an uncomfortable experience....But the remaining two billion or so people can continue to drink milk and eat dairy foods....They have inherited mutations that lead them to persist in making lactase."
HH is intolerant to lactose while I thrive on it. That said, I recall actually drinking very little milk in my life. Cheese and ice cream are more my speed with milk on the occasional bowl of hot or cold cereal.
Why I have Quirks:
It has always been difficult for me to come up with good excuses for my being, as Stu put it in a recent comment, "pretty odd". (He was kind enough to include himself in the labeling.) After reading SHHML, I came up with a great excuse. It seems that pieces of DNA are much more mobile than many of us had ever considered.
I had known for some time that a woman might take on DNA from her fetus(es). What I had failed to consider is that the DNA so transported might be re-infused into later fetus(es) carried by the woman. So...I'm thinking...my mother was pregnant with and delivered two male children before she had me; thus, I may carry DNA for one or both of those children. My pretty oddness, I lay at the doorstep of Elder Brother. It is all his fault! It is too late to blame the other brother for he survived birth by only minutes.
Any of my pretty goodness I lay at the doorstep of our daughters. Surely I carry some of each of their complements of DNA. Yay!
This also explains my Younger Brother. He was a bright (PhD in GeoPhysics), but sometimes, tortured guy who, at age 70, took his own life - with a long gun, of all things. He might have carried DNA from his two brothers and two sisters. That should be enough to warp anyone, may he rest in peace!
Over-Population:
I find it appalling that, according to Zimmer, "By the early 2000s, over a million children had been born with donated sperm in the United States, alone." He brought out that some sperm donors fathered dozens of children. It's not as if we had a shortage of people in this world, is it? (At this point I hear, in my head, HH asking me to "tell us how you really feel". Well...my blog, my opinions.)