From the Improbable Research website:
January 11th, 2018
"Despite the widespread use of high-heeled footwear in both developing and modernized societies, we lack an understanding of this behavioral phenomenon at both proximate and distal levels of explanation."
Prompting the development a new (experimentally-tested) hypothesis by David M. G. Lewis, Eric M. Russell, Laith Al-Shawaf, Vivian Ta, Zeynep Senveli, William Ickes and David M. Buss, presented in the journal Frontiers in Psychology, Nov. 2017.
"[…] we hypothesized that high heels influence women's attractiveness via effects on their lumbar curvature. Independent studies that employed distinct methods, eliminated multiple confounds, and ruled out alternative explanations showed that when women wear high heels, their lumbar curvature increased and they were perceived as more attractive. Closer analysis revealed an even more precise pattern aligning with human evolved psychology: high-heeled footwear increased women's attractiveness only when wearing heels altered their lumbar curvature to be closer to an evolutionarily optimal angle."
See: Why Women Wear High Heels: Evolution, Lumbar Curvature, and Attractiveness
Note: The authors cite the work of Ig Nobel Physics Prize winners (2009) Katherine K. Whitcome of the University of Cincinnati, USA, Daniel E. Lieberman of Harvard University, USA, and Liza J. Shapiro of the University of Texas, USA, for analytically determining why pregnant women don't tip over. Ref. "Fetal Load and the Evolution of Lumbar Lordosis in Bipedal Hominins," Nature, vol. 450, 1075-1078 (December 13, 2007).
Also see: Heel thyself (The Guardian, Nov. 2014)
Why I don't believe it: The hypothesis is centered on only one of the two sexes. As far as I could tell, the researchers didn't even consider why men wear/have worn high heels. According to a BBC posting, Why did men stop wearing high heels?:
....
"The high heel was worn for centuries throughout the near east as a form of riding footwear," says Elizabeth Semmelhack of the Bata Shoe Museum in Toronto.
Good horsemanship was essential to the fighting styles of Persia - the historical name for modern-day Iran.
"When the soldier stood up in his stirrups, the heel helped him to secure his stance so that he could shoot his bow and arrow more effectively," says Semmelhack.
At the end of the 16th Century, Persia's Shah Abbas I had the largest cavalry in the world. He was keen to forge links with rulers in Western Europe to help him defeat his great enemy, the Ottoman Empire.
So in 1599, Abbas sent the first Persian diplomatic mission to Europe - it called on the courts of Russia, Germany and Spain.
A wave of interest in all things Persian passed through Western Europe. Persian style shoes were enthusiastically adopted by aristocrats, who sought to give their appearance a virile, masculine edge that, it suddenly seemed, only heeled shoes could supply.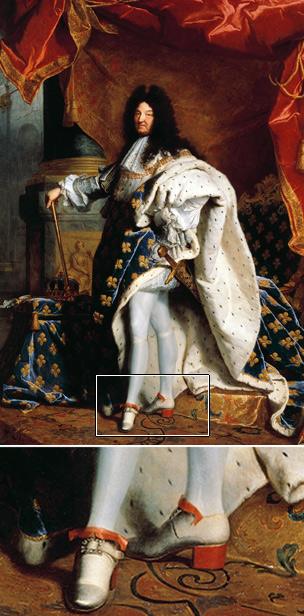 As the wearing of heels filtered into the lower ranks of society, the aristocracy responded by dramatically increasing the height of their shoes - and the high heel was born.
In the muddy, rutted streets of 17th Century Europe, these new shoes had no utility value whatsoever - but that was the point.
"One of the best ways that status can be conveyed is through impracticality," says Semmelhack, adding that the upper classes have always used impractical, uncomfortable and luxurious clothing to announce their privileged status.
"They aren't in the fields working and they don't have to walk far."
When it comes to history's most notable shoe collectors, the Imelda Marcos of his day was arguably Louis XIV of France. For a great king, he was rather diminutively proportioned at only 5ft 4in (1.63m).
He supplemented his stature by a further 4in (10cm) with heels, often elaborately decorated with depictions of battle scenes.
....
Although Europeans were first attracted to heels because the Persian connection gave them a macho air, a craze in women's fashion for adopting elements of men's dress meant their use soon spread to women and children.
"In the 1630s you had women cutting their hair, adding epaulettes to their outfits," says Semmelhack.
"They would smoke pipes, they would wear hats that were very masculine. And this is why women adopted the heel - it was in an effort to masculinise their outfits."
From that time, Europe's upper classes followed a unisex shoe fashion until the end of the 17th Century, when things began to change again.
It is my hypothesis that, like some of the men of old, women took to wearing high heels to give them more stature (figuratively and literally) within the population. I know it gives me a crick in my neck to constantly be looking up to people who are much taller than am I. For whatever reason (some reasons make sense, others are nonsense), people equate height with greatness. Physical height is desirable. Never mind that it would be much easier to feed a human population that includes no one taller than five feet: We must have height!
I leave you with this titillating thought (you may go to the above BBC article to learn how they got from the above paragraphs to the following one):
Semmelhack, author of Heights of Fashion: A History of the Elevated Shoe, believes that [...an] association with pornography led to high heels being seen as an erotic adornment for women.