I don't know about your email provider, but my providers (2) do a great job of protecting me from scam and spam emails. Why can't my phone service providers (2) do a great job of protecting me from scam and spam phone calls?
A few years ago, I got into the habit of reporting scam emails to the Federal Trade Commission (FTC). I don't know that it did a lot of good, but it could not have hurt. Eventually, incoming email filters were improved to the point that I don't recall the last time I received an actual scamming email.
Please tell me: Why have I not been reporting scamming phone calls? *shoulder shrug*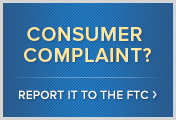 The following is from the FTC website - The FTC Complaint Assistant. Note that this site is not just for reporting phone calls, but for any type of problem that affects interstate commerce. (As consumers of internet and phone services, we are a part of the commerce equation.)
Welcome!
Complaints from consumers help us detect patterns of fraud and abuse. The FTC would like to know more about your complaint and the Complaint Assistant will help guide you. To use the Complaint Assistant:
Choose a complaint category on the right [See below - CC]

.

If you can't find a match select "Other".

Answer a few questions related to your complaint.

Tell us what happened in your own words.
This is a listing of the menu items - not linked, here, but found at the linked website.
Unwanted Telemarketing, Text, or SPAM

Mobile Devices or Telephones

Internet Services, Online Shopping, or Computers
-    Counterfeit Checks
-    Impostor Scams
-    Sweepstakes and Prize Promotions
-    Automobile
-    Satellite and Cable TV Provider
-    Magazines
-    Health and Fitness
-    Foreign Lottery
-    Grants or Education Scholarships
-    Charitable Solicitations
-    Romance Scams
-    Immigration or Tax Services
-    Travel, Vacations or Timeshares
-    No match found? Click Here
FTC has an interesting article posted, FTC shuts down multi-million dollar phone scam.
If you don't already avail yourself of the opportunity, join me in a movement to start reporting the scamming phone calls. It won't stop the annoyance of the spamming phone calls; but, one step at a time! Bitchin' ain't enough. I need to start telling the people who can do something about scamming phone calls!
P.S. Did I tell you that a few days after my previous posting (Pet Peeve#7), Hunky Husband picked up a similar call to the same phone line?