A couple of weeks ago, Stu obliged my request to provide the schematic diagram to the old Apple I computer, a photo of which he had posted in Heads up, Apple fans! Well, at least he gave me the URL to the diagram. (It made me reach 'way back into the back of my brain to recall how to decipher the color bands on resistors!)
This morning, I ran into another schematic diagram that I thought you and Stu might like. Unfortunately, I don't recall who pointed out to me the website from which the diagram is stolen. Please speak up if you see this and it was you. The website is: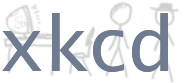 A webcomic of romance, sarcasm, math, and language.
Circuit Diagram